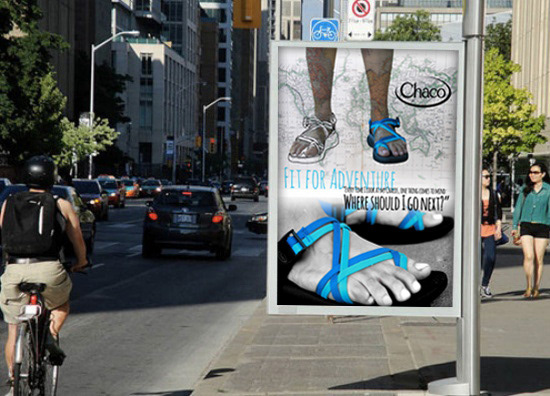 This quick project revolved around an item that I think is a good design. Chaco shoes are designed for durability, accessibility, comfort and sporty style. These shoes make you want to explore. 
Chacos: 
Mark Paigen originally launched Chaco in April 1989 for white water rafting guides. The different styles of soles and straps allow outdoor activities such as climbing, walking, biking, rafting, and hiking. These sport sandals have BioCentric foot beds that minimize back, neck and joint pain so you can maximize your endurance level. The Z-strap style sandals hold your feet securely and can be adjusted to fit every individual's foot. The straps run under the foot bed and can be tightened and loosened by pulling them. Think Chacos can't handle your level of fun? They have you covered; Chaco will resole, re-strap, repair or replace your Chaco sandals in a short amount of time.
From mission trips to camping these shoes have sparked a love for adventure in me. These shoes have taken me to great places with lots of memories. They were strapped to my feet on my first service trip and went with me on my first trip out of the country. I also like to equate these shoes with my personality; they are a little nerdy, but are practical and serve a greater purpose. Every time I look down at my feet one question pops into my mind: where should I go next?